Where to go for support cards
The Collaborative has developed a 'Where to go for support' resource that highlights key mental health and other supports available in the Illawarra Shoalhaven region.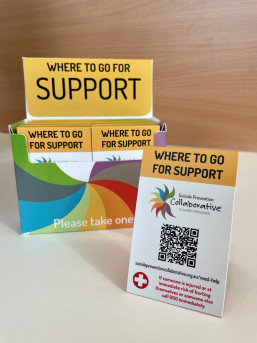 The cards are a quick reference guide that you can fold-up and put in your wallet.
Some ways you can get these out into the community include:
- share with your friends, family and colleagues
- hand out to your staff e.g. at staff orientation or on RUOK? Day
- hand out to your clients / customers
- place at your work or school's reception desk.
Order form at the bottom of the page.