Support your workforce today!
Your staff are well placed to notice when their colleagues are not coping, but would they know what to do?
Give your staff the skills to recognise the warning signs of suicide and confidence to help that person with suicide prevention training.
QPR online training
QPR stands for Question, Persuade, and Refer - the 3 simple steps anyone can learn to help save a life from suicide.
QPR is an online, evidence-based suicide prevention training which will fit easily into your workplace training schedule and is an affordable way to fulfil your responsibility to protect your staff.
QPR suicide prevention training will teach people to:
Identify warning signs that someone may be thinking about suicide

Confidently ask if someone is thinking about suicide

Connect them to appropriate support
The Collaborative can provide useful templates, trackers and other resources to support you to roll-out across your organisation. If you'd like some more information on how to tailor QPR for staff in your organisation please get in touch via the Contact Us link below today!
Additional Resources for your workplace
Where to go for support cards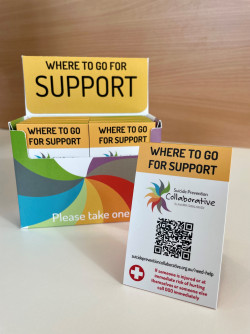 The cards are a quick reference guide that you can fold-up and put in your wallet.
Some ways you can get these out into the community include:
- share with your friends, family and colleagues
- hand out to your staff e.g. at staff orientation or on RUOK? Day
- hand out to your clients / customers
- place at your work or school's reception desk.
You can order the 'Where to go for support' cards here
** This resource includes contact details for local services to Illawarra Shoalhaven. We suggest you try searching the Lifeline service finder for a service closest to you.**
Where to go for support posters